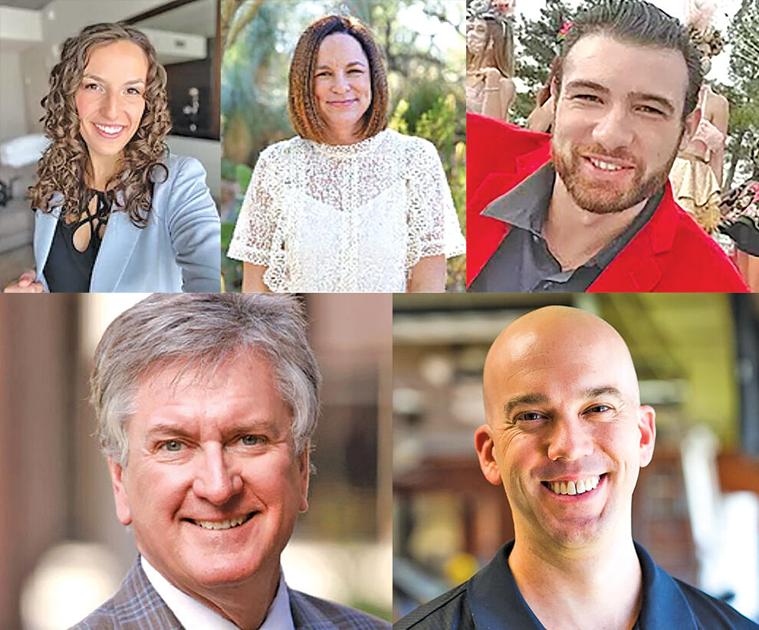 5 compete on the dance floor to help children's foundation | Community life
[ad_1]
Heidi Crouch, a teacher at Kyrene School in Ahwatukee for 17 years, is one of five local professionals vying for a trophy at the Armer Foundation's second annual Dancing with the Stars Black Tie Gala for Children in July.
Veteran Kyrene de la Sierra admits to being terrified of being one of the "celebrities" in dance, but said it was worth it because she saw how her students were helped by the basic foundation of 2 years.
The Armer Foundation helps families with seriously ill children who face sky-high medical bills.
"When I was approached to participate in Ahwatukee Dancing with the Stars, I first laughed. I have absolutely no dance training or experience and I just can't seem to keep up, "she said.
"Realizing that this was a serious request, I was terrified. Then I realized that Logan, Riley, Drew, and many other children must be terrified every time they had to undergo medical intervention. I realized that if they're brave enough to go through this, I can be brave enough to ridicule myself completely, "Crouch said.
The Ahwatukee resident said she admires the work the Armer Foundation is doing and hopes she can help raise additional funds through online sponsors.
"Several of the children they helped were in my class or were students in my school," Crouch said. "They changed a student's house when she became unable to climb the stairs so that she had a bedroom on the first floor.
"They also gave support to the Gidley family in Logan's battle with cancer. With her cancer returning three times, it has been a long journey for the family. "
Since the foundation's inception, Matt and Jennifer Armer have helped countless families in the area, alleviating unforeseen financial burdens for parents of children with chronic or life-threatening illnesses.
"When health insurance isn't enough, we help by covering co-payments, premiums, deductibles and out-of-pocket expenses," Jennifer explained. "We want to ease the financial burden on families so that they can focus on their children."
She hopes the July 23 gala will provide a much needed financial boost. Last year's one was canceled.
Five local professionals have agreed to participate in this fundraising contest, the contest of which is based on the popular ABC-TV series.
Like the TV show, local celebrities are paired with a professional dancer, compliments of Fred Astaire Dance Studio in Ahwatukee, owned by Mariya Ilchenko and Ilya Valednitsky.
For Alisha Deros, senior patient services coordinator at Spooner Physical Therapy in Ahwatukee, the return to dance is a reminder of years spent at Desert Vista High School Summer Arts Academy, where she played tap dance, hip- hop and ballet.
"I was nominated by my friend Stacey Culver who won the inaugural Ahwatukee Dancing with the Stars, and I just couldn't pass it up," Deros said, adding that she was "so excited to be able to participate in an event as fun as fundraising for the Armer Foundation to help children in need.
"I haven't danced in a while, so it will be fun," said Deros, a 2014 DVHS alumnus and 2019 Arizona State University graduate.
Chad Waits, Mountain Pointe High Class of 1998 and another employee of Spooner Physical Therapy, also entered the dance competition.
Waits, who holds a doctorate in physiotherapy and specializes in orthopedic musculoskeletal disorders, lives in Ahwatukee with his wife Sarah and their two children.
Not only is he "very excited to have the opportunity to perform," but "I am even more delighted to be able to help promote the Armer Foundation for Children.
"As a physiotherapist, I see first-hand some of the challenges families face when it comes to providing appropriate care for their children during difficult medical and physical times," said Waits, assistant professor at AT Still University in Mesa.
"The Armer Foundation for Children has provided incredible help to many of our local Ahwatukee residents and I look forward to helping them provide more opportunities for future Ahwatukee families."
Another professional in the competition is lawyer J. Phillip Glasscock of the law firm Guidant.
"Ballroom dancing is new to me, but doing something different, especially after the pandemic, is a welcome challenge," said Glasscock, a lawyer with 35 years of experience.
He was inspired by a colleague to enter.
"One of Guidant's paralegals, Caitlin Martin, competed in 2019 and took second place," he said. "Hearing about the wonderful experience she had and the incredible work the Armer Foundation for Children is doing to ease the financial burden on families of children with extreme health conditions, I was honored and delighted to give him my support. "
"Caring for a child with a chronic illness is incredibly expensive, not to mention the enormous emotional burden it places on those who care for them. Helping the Armer Foundation alleviate some of these burdens on local families means a lot to me. "
The novelty of the dance isn't the only challenge Glasscock faces.
"I tore my left Achilles tendon in half last November, with surgery just before Thanksgiving, so this is a huge step forward for me. Specifically, I was walking with a brace and crutches last February and have been working hard ever since to become fully mobile. This kind of injury normally takes a full year to recover, "he said.
Jason Ellegood, general manager of UFC Gym Ahwatukee, said his sense of adventure overcame apprehension of being in the Ahwatukee Dancing with the Stars.
"I have never danced before and I am extremely nervous. I'm not a dancer and I feel uncomfortable dancing, "Ellegood said. "I'm also not the type to turn down adventures or anything that will be fun or help me grow, so I decided to say yes when they asked me to."
Voting for the dancer of your choice is done by making an online donation before the event, and the person receiving the most donations will receive a trophy.
The Ahwatukee Dancing with the Stars Black Tie Gala will take place at Chateau Luxe in North Phoenix. The event starts at 6 p.m. with meetings and aperitifs. The ballroom opens at 7:00 p.m. where a three-course meal will be served before the evening's entertainment.
The gala isn't the only fundraiser that the Armer Foundation for Children has been undertaking since the COVID-19 restrictions were lifted.
They sponsor a #Team Drew blood drive at CK's Tavern and Grill, 4142 E. Chandler Blvd. Friday July 16 from 11 a.m. to 3 p.m. for the benefit of Drew Pinkston.
September 26 will mark the start of a new community event and fundraiser as teams of two compete in Ahwatukee's Amazing Race.
Teams will be assigned 12 tasks starting with their first clue at the Armer Foundation for Children office at 9830 S. 51st Street. Registrations have just opened online.
Tickets can be purchased online at ArmerFoundation.org. More information is available on their website and on Facebook.org, where they also host the Armer Foundation for Children Who Buy for Charity, offering items for sale.
Armer Foundation and Armer Foundation Buying for Charity Thrift Store are located in suite A218 at 9830 S. 51st Street in Ahwatukee. Both can be reached at 480-257-3254.
[ad_2]