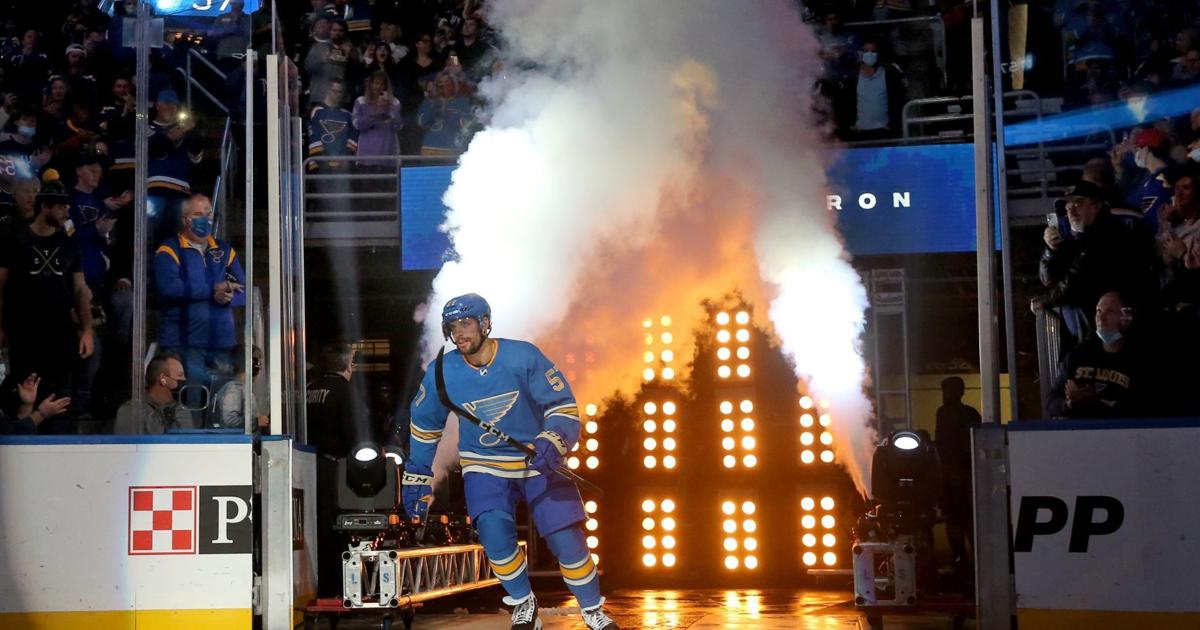 BenFred: Blues can't afford to let Perron into free agency without a fight | Ben Frederickson
They say if you like something, let it go and see if it comes back.
Twice David Perron has been let go by the Blues, once by trade (2013) and another because the team left him unprotected in the expansion draft (2017). Twice he came back. In fact, Perron has never signed a contract with a team that is not called the Blues. His previous experiences as a draft-eligible prospect or free agent ended the same way. Signature of an agreement with the Blues.
Perron is a true Blue. He's a champ. He is Playoff Perron. And he could leave after the end of this post-season. Hopefully not. If there was any doubt about how much the Blues needed him, this current post-season should have settled it.
Where would the Blues be in the playoffs without Perron?
Going into Saturday's Game 3 of this second-round series against Colorado, Perron was tied for fifth in the NHL in playoff points (11). His seven goals were only ahead of Jake Guentzel's eight. Perron's hat trick in the Blues' first-round opener against Minnesota helped the Blues steal one on enemy ice. His two-goal game against the Wild in Game 4 of this series helped send Minnesota onto the golf course. His two-goal game against Colorado in Game 2 of this series gave the Avalanche their first taste of playoff loss.
Don't forget that Perron was at home last year in the playoffs when the Blues were swept by this team from Colorado. As Colorado pounded past goaltender Jordan Binnington, Perron tried to stop himself from punching holes in his basement after testing positive for COVID. It is no coincidence that the Blues showed more courage in this rematch. Playing in front of crowded stadiums is a difference. Playing with Perron is another.
"He was always a high-caliber player," said teammate Robert Thomas. "You always see the best of him when it's all on the line. When we needed him the most here in the playoffs, he stepped up and scored huge goals for us on the power play and five-on-five… That's the same kind of mindset with Binner (goalkeeper Jordan Binnington). When it's all out there and on the line, he finds a way to step up. He's been huge for us so far.
No one should be surprised. Perron had a great regular season after battling a pesky concussion, scoring the second-most regular season goals (27) of his career in season No. 15. His stellar play came at a good time for the Blues but also for Perron, who is playing in the fourth and final year of his expiring contract. He's heading towards being an unrestricted free agent with a good head of steam. Sip.
I'm going to break my own rule here. During furious concerns over goaltender Ville Husso's future with the Blues near the end of the regular season, I was the one saying you didn't have to deal with this issue until after the playoffs. And look what happened. Jordan Binnington returned to form when it mattered most. At least until Colorado knocked him out of the net in the first period on Saturday.
Husso can and should be paid handsomely for the deserved chance to prove he can be another team's No.1. But the Blues can and should confidently move forward with Binnington and hope that Charlie Lindgren can handle Husso's role. This approach could free up some cash for Perron.
Yes, Perron is 33 years old. Yes, it is fair to worry about the problem of concussions. Yes, the Blues are deep up front and should be aware of their annual dance with the salary cap. But the Blues also want to aim for a championship next season, and they don't have a striker like Perron if he leaves. His puck game and vicious shot don't fade with age. His hockey intelligence is unmatched. Perron is a prime time player. The playoffs are his playground. His confidence? It's contagious.
All of the Blues' young forwards — at least the ones who pay attention — are better because they played with Perron. If captain Ryan O'Reilly has become the best real-time example of the work ethic Berube can go to, Perron has become the best real-time example of Berube's oft-referenced level of competition.
"He's a very competitive guy," Berube said. "I would say his competitiveness is up there with anyone, that's for sure. Just when you watch him on the pucks and everything, how competitive he is, one-on-one with the puck, it doesn't get much better to be honest with you. He is a very competitive person. He wants to do well. He wants the team to do well. More than anything about David, that's what I remember from him. A very competitive person.
"Guys watch people," added Berube. "Players watch individuals, whether in training or in games, how they behave, what they do, their work ethic, all that. I think it fades. Guys see Ryan O'Reilly, the things he does. Not everybody. Some guys. They notice how hard he works, how long he stays on the ice. If you are a gamer and watch this then you understand what it takes to be as good as him. Some guys will see this and take some of it and put it into their lives. Understand how hard you have to work to be a good player. From a competitive point of view, when you see a guy competing as hard as David Perron, and you look at him, it's probably going to help you at some point.
Hopefully this continues to help the Blues.
Perron and Blues general manager Doug Armstrong have yet to agree on the forward's future. There is a lot of mutual respect shared between the two. It would be mutually beneficial for the player and the team to stick together. Easier said than done, I know. Armstrong will not get emotional. Perron may have bigger offers elsewhere. But the Blues can afford to compete for Perron, a true Blue who always competes, especially in the playoffs.