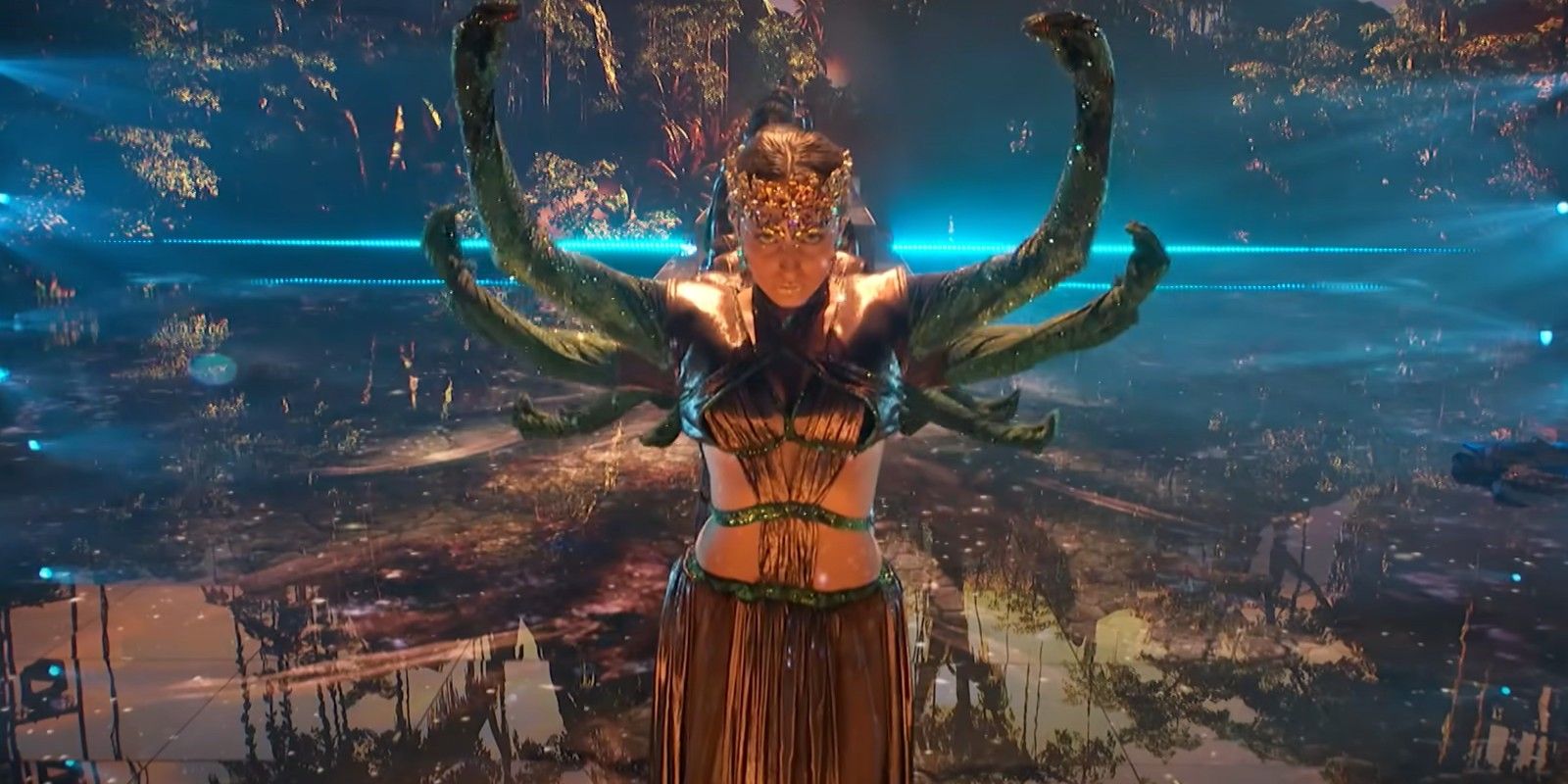 Best and Worst Acts of Qualifiers 5
The qualifying rounds for America's Got Talent Season 17 is officially over and a winner has been chosen; however, there were many amazing and good acts throughout the season. The fifth and final qualifying round was perhaps the most competitive yet, with all eleven acts bringing their best to the table. AGT began with singer Kristen Cruz, who sang a stunning rendition of Mark Ronson's "Nothing Breaks Like A Heart." Magician Mervant Vera then took to the stage to perform his magic with his freestyle rapping. Travis Japan and Max Ostler were next to perform, third and fourth respectively. Comedian Jordan Conley was the fifth act on stage, who also won the wildcard for last place in the live shows.
The second half of AGT began with pole dancer Kristy Sellars, who used two poles and a stunning visual backdrop to perform her number. The Blade 2 Blade danger act then took the stage with a fiery knife throwing act that had everyone on the edge of their seat. Filipino dance group Urbancrew followed, who performed a superb acrobatic backstroke performance. AGT, which had plenty of talent this year, viewers then saw singer Aubrey Burchell belt out her own version of KIRBY's "Loved by You." Shu Takada was next to perform with his amazing yo-yo act, something that has never been seen on the AGT step forward. The evening ended with a breathtaking performance by the Mayyas, a Lebanese dance troupe of thirty-six women.
Related: Everything America's Got Talent Fans Need To Know About Chapel Hart
All in all, the fifth round of qualifying was very competitive due to the acts that brought everything. The best and worst acts in this round don't necessarily come down to who was good and bad, but rather who went above and beyond versus who strayed from the average.
AGT Mayyas Season 17 (Best)
Without a doubt, The Mayyas gave the most breathtaking and compelling performance of the night. Sofia Vergara, who is a AGT A fan-favorite judge, the golden buzzer act was the perfect way to close the show, leaving the audience and judges in awe. The Mayyas opened up during their hearing about the struggles of dancers in Lebanon and told the judges it was their only chance to prove to the world what Arab women can do. They certainly did it with their live show, where the thirty-six women performed a stunning dance routine partly influenced by the charming snake from the Middle East. The women are effortlessly synchronized with each other with their hypnotic arm movements as they stand in a straight line one behind the other. Howie Mandel, who is absent from AGT auditions, even called the act the "Best moment in AGT history." It was no surprise that the Mayyas were announced as the first act of the night to advance to the final. On September 15, the Mayyas were also announced as the winners of AGT season 17.
AGT's Max Ostler Season 17 (Worst)
It's important to note that while Max's performance was by no means bad; however, it did not meet the standard of AGT season 17. Max performed a solo dance routine to Ed Sheeran's "Castle on the Hill," with a stunning visual backdrop to accompany it. Max's routine lacked the unique factor an act needs to advance at this stage of the competition, as many of his moves are familiar the hard way. AGT Fans. Although Max executed his splits and other moves with ease and grace, it simply lacked originality. Compared to other dance numbers on AGT, who had good acts in Qualifiers 1, in the current season like The Mayyas, Max's performance falls short because there is nothing to make her stand out. Nevertheless, it is clear that Max is a talented and passionate dancer, and that he will one day make a career out of it.
AGT's Kristy Sellars Season 17 (Best)
Kristy Sellars was another stunning performance of the night on AGT, especially for the immense level of originality and creativity incorporated into his act. During his hearing, the AGT the judges were surprised to learn that Kristy would be performing a pole dancing routine. They were surprised when Kristy put on an incredible show involving not only pole dancing, but also fun and interactive backgrounds that she used as part of her routine. For her live performance, Kristy, who wants to break the stigma of pole dancing, stepped up her number by using two poles instead of one. It also incorporated new horizons that attracted the AGT audience, like a mushroom bottom that made it look like she was climbing them as she climbed the pole. Kristy's skill level in the act is also dangerous in some ways, as she climbed very high on the poles. Kristy was the second act of the night to be voted into the finale; however, she did not end up winning the million dollar prize.
Related: America's Got Talent Season 16: Where Are They Now?
AGT's Travis Japan Season 17 (Worst)
While many AGT fans had high hopes for Travis Japan's performance, their act ultimately fell through during live tours. The boy group performed their upbeat original song "Party Up Like Crazy," which began with a number of technical issues. The act was so disorganized it even got an X from Howie, who called the golden buzzer moment jaw-dropping, as Sofia hid her face in her hands as she watched. That's not to say Travis Japan isn't talented, but they had a poor performance, which probably caused technical issues and nerves. Next to the skill level of other acts of the night, including The Mayyas and Kristy Sellars, Travis Japan fell short. The band also lacks originality in their act, as Max Ostler did. Travis Japan are a classic boy band that sings and dances, and while they're fun to watch, it's also something America's Got Talent fans have seen many times before. Travis Japan's act doesn't encompass any genuinely original factors, as many other acts of the night have. Although they seemed like a great group of guys, they ultimately didn't do enough to make it to the finals.