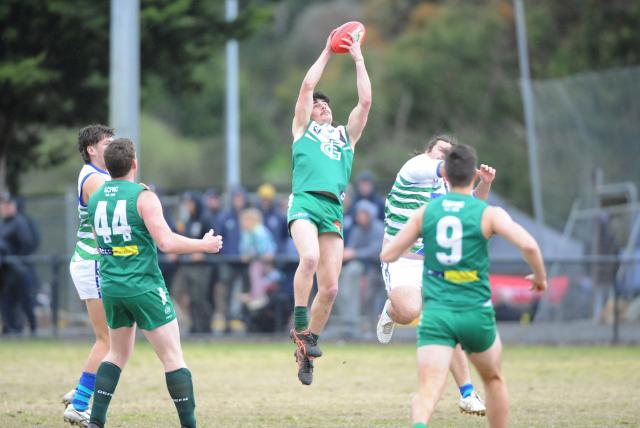 Brookers delivers a place in the big dance
By Tyler Lewis
A scorching second stanza from Gembrook Cockatoo gave the Brookers a ticket to the Division One Outer East Grand Final.
Second quarter aside, Berwick Springs won the contest 8.7-5.12, but that means nothing as the Titans couldn't contain Brookers' anger for the 30 minutes before the break. main.
Brad Coller's men threw 10 majors unanswered in the second and had six solid opportunities for more in a scintillating quarter of football.
As the second prepared for the game, Coller was happier with how his side defended earlier against the howling wind at Woori Yallock on Saturday.
"I think it was a breeze of five goals in the first half, at least, and I was pretty comfortable with our first quarter," he said.
"I thought keeping them to two goals was pretty good, we missed a few chances where we should have scored at the other end.
"One on the full and two misses from set pieces which on a calm day probably would have gone through.
"I knew we were coming with that breeze, but yeah, in the second quarter it kind of clicked for us, we had a bit of excitement and a bit of a run."
The Brookers once again ticked in the 15.18 (108) to 8.10 (58) win, despite competition spearhead Myles Wareham not scoring.
Coller was pleased with how the goal-kicking distribution did the job, but politely informed his primary target of his performance.
"Yes we had a good spread of goalscorers and yes he had a bad day for the first time this year," he said.
"You can't be too hard on him, but I drew him for having his worst game in the preliminary round."
With his spot in the Grand Finals booked, Coller didn't shy away from taking the job in his post-match speech.
"I didn't get too lost in that, I told the guys to appreciate what we achieved, but everything we achieved was an opportunity," he said.
"We really haven't achieved anything, potential is one thing, but potential just means you've proven something again.
"We don't want to sit back and say we are a young team with good potential, we want to start to measure up and achieve something."
In the Berwick Springs camp, coach Rodney Benstead felt those were two key areas that cost his team in the second term.
"I think it was a combination of our ball numbers being challenged and we weren't able to put enough pressure on them when we had the ball," he said.
"If you don't execute those two components of the game, you put a lot of pressure on yourself.
"We let ourselves down in the second quarter; those are the two main areas where I felt we were breaking down.
The loss did not impact his pride in the group.
"I'm really, really proud of the effort and the trip, the trip was just fantastic," he said.
"It's another pre-season, another year of connection and another year of hard work, it's not one thing, there are a few different areas that we need to improve.
"I think we have the appetite for it after getting to where we are, I think the stomach is burning to get through a preliminary final.
"We have the reserves in a grand final on Friday and have a lot of young players at the club, we will try to be aggressive again with our recruitment and be able to take that next step.
"It's an exciting place and I think we're learning a lot from it."
With one of Sevilla and Gembrook Cockatoo certain to leave for the competition on Friday afternoon, Benstead was adamant in the Titans' thirst for success in 2023.
"I think being such a young roster and seeing where we've come to this year, I think the boys are just desperate to take the next step," he said.
"I'm not going to cap it, I think everyone in the room after the game… there was disappointment, but there was also an eye to next year and the hard work that gets you to that space .
"I think we're going to grow a lot over the year and where we're at, we want to win the grand final and be competitive, I don't think that's a bad ambition."