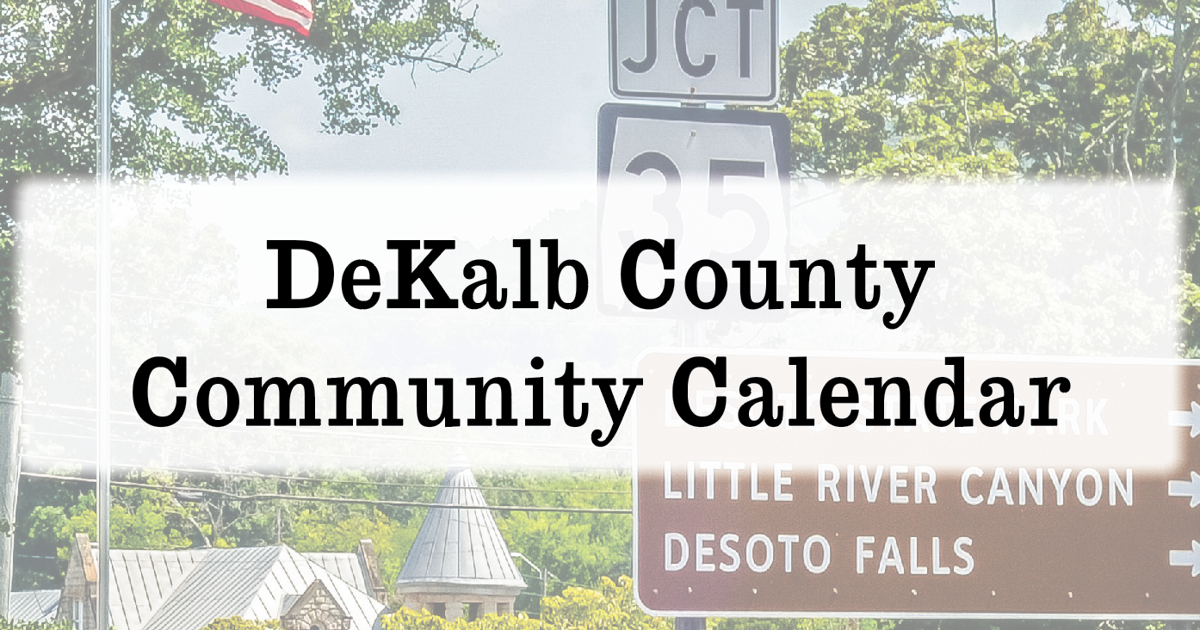 Community calendar | | times-journal.com
• New Home Baptist Church (Highway 40 in Henager) Sunday, July 24 at 6 p.m. Monday-Wednesday July 27-27 at 6:30 p.m. Evangelist Joel Jenkins.
• Storytime at the Canyon Center is July 26 at 10 am. For children from 3 to 8 years old. Call (256) 845-3548 or visit CanyonCenter.org.
• Revival: Flat Rock Church, 2321 County Road 356, Grove Oak, AL will host a revival from Sunday, July 24 through Wednesday, July 27. Sunday services will begin at 10 a.m. and 5 p.m. with evangelist Jess Lockhart. Services Monday through Thursday will begin at 7 p.m. with Evangelist Mark Askew. Pastor Junior Croft invites everyone to attend.
• Mt. View Primitive Baptist Church (454 Love Road Fort Payne) invites you to its annual homecoming service on Sunday, July 24 beginning at 10:30 am A convivial meal will follow the service.
• A Bingo fundraiser for the Altrusa Club of Fort Payne/DeKalb will be held July 30 at the VFW Post Home from 10 am to 12 pm. Price for each part. The cost is $5 per card with a limit of four cards per person. Proceeds will go toward scholarships for 2023 graduates. For more information, call (256) 996-4269 or (256) 630-2583.
• The 2nd Annual Lil Mole Run Golf Tournament will take place on July 30th. Shotgun start at 8 a.m. Call (256) 634-2104 for more information.
• DCRW's second annual red white and blue dinner is scheduled for July 30 at 6 pm at Steel Magnolia Farm in Sylvania, with guest speaker Nick Welden, DeKalb County Sheriff. The funds raised are intended to support the "Caring For America Project". Tickets are on sale now for $50 each, contact President Cindy Holcomb at 256-717-7528 for more information. The last day to purchase tickets is July 22.
• Song: Song of the Red Book at Fyffe First Baptist Church on Sunday, July 31 at 6:00 p.m.
• The Songwriters Round with Skip Cochran, Cliff Abbott and Troy Dewberry at the Mentone Cultural and Artistic Center will take place August 2 from 6:30-8:30 p.m. For more information, call (256) 674- 3366 or email [email protected]gmail.com.
• The meeting of the Municipal Council of Géraldine is held on the second Monday of each month at 5:30 p.m., and the working sessions take place on the Tuesday preceding the second Monday of each month at 5:30 p.m.
• The world's longest garage sale is scheduled for August 4-7 on the Lookout Mountain Parkway. This event features 650 miles of garage sales and unique finds from Gadsden to Chattanooga for the southern portion of it.
• Fundraising for the Mentone firefighters barbecue will take place on August 6th at the Mentone fire station.
• The 16th Annual Mayor's Cup Golf Tournament will be held August 12 at Terrapin Hills Country Club. This event is a fundraiser for the Fort Payne Chamber of Commerce. Team $500 Hole $100 Mulligans $5/each – 4 max per person. Lunch included, beer cart, cash prizes, door prizes and goodie bags. For more information, email [email protected]
• School Reunion: The Whiton School will hold its annual meeting on August 13 in the old Whiton School building from 11:00 am to 1:00 pm. Everyone is invited to bring their favorite food to share with old and new friends. Call and invite a friend!
• The Little River Arts Council Members' Social will be held August 13 at the Mentone Inn and Linger Longer Lodge from 5-7:30 p.m.
• The Paint Like Bob Ross course taught by Certified Bob Ross Instructor Gary Grider will be held August 13 from 9:00 am to 1:30 pm at the Mentone Arts & Cultural Center. Cost is $100, limited to 12 students. For more information, call (256) 674-3366 or email [email protected]
• The Flarity Reunion is scheduled for Sunday August 14 from 10 am to 4 pm at the Fischer Rescue Squad Building with a performance by Fortner Brothers 4 Christ after lunch. Bring food and old photos. For questions, contact Ed Thacker at 256.997.6876.
• The Boom Days Heritage Celebration is scheduled for September 16-17 in downtown Fort Payne.
• The Mentone Colorfest is scheduled for October 15 to 16. The venue moved from Brow Park to the old Moon Lake School campus.
• The 2022 Rainsville Farmer's Market season is underway. The market is open Thursdays from 4-7 p.m. at the Farmers Market Pavilion located at Rainsville Field of Dreams.
• Moon Lake Community Library is now Mentone's public library. The hours are Tuesdays, Wednesdays and Thursdays from 12 p.m. to 4:30 p.m. and Saturdays from 10 a.m. to 1 p.m. For more information, visit moonlakelibrary.org.
• Child Find Public Service Announcement: Child Find is an effort to locate, identify and assess people with disabilities who may benefit from special education services. If you know such a person from birth to age 21, you can call the school district coordinator. DeKalb County Schools Special Education Coordinator, Stacey Wright 256.638.4131 ext. 144 or City of Fort Payne Schools Special Education Coordinator, Paula Musket 256.845.0915 ext. 7019.
• Henagar Town Council holds regular monthly meetings on the first and third Monday of each month at 6:00 pm. The next meetings are August 1 & 15, September 5 & 19, October 3 & 17, November 7 & 21, and 5 & 19.
• DeKalb County Democrats meet the 2nd Tuesday of each month at 205 Gault Avenue N. Fort Payne. Dinner-5:30. Program-6:15.
• Alcoholics Anonymous meets at the Saint-Joseph Episcopal Church in Mentone every Tuesday and Saturday at 6:00 p.m. and at 11:00 a.m. on Thursday.
• The DeKalb County Pet Adoption Center offers online adoption applications. When visiting the shelter, please call 256-304-0474 before entering the facility. The shelter is located at 2601 Jordan Road SW in Fort Payne.
• Narcotics Anonymous 24 hour helpline 800-230-5109. www.meana.com.
• The following programs are offered at the DeKalb County Council on Aging at 600 Tyler Ave, SE, Fort Payne (call 256-845-8590 for information):
– Ballroom dancing lessons: Monday from 6:00 p.m. to 7:30 p.m., $5 per week, from 14 years old
– All about seniors: 1st Thursday of each month at 10 a.m.
– Ceramics/Pottery: (bottom) Mon. & Wed. 9 a.m. to noon, 55 years and over
– Duos & Solos Square Dancing Club: Thursday 6.30pm – 8.30pm EXPERIENCED Square Dancers start at any time, NEW Dancers start in September and February. $20 per month, 10 years and over
– Exercise room: available Monday to Friday from 8 a.m. to noon (on the ground floor), from 55 years old
– Joyful Hearts Homemakers & Community Leaders Club: Friday 9am-12pm,
– Line dancing class, Tuesday, 55 years and over: Beginner class 1:30 p.m. – 2:30 p.m., Advanced class 2:30 p.m. – 3:30 p.m.
– Low-impact exercise classes for 55 and over: 9:30 a.m. to 10 a.m., Monday, Wednesday and Friday.
– SAIL Exercise Class: Friday 10:15-11:15 (Come to 9:30 a.m. class to receive approval to join)
– Parkinson's support group: 2nd Thu. of each month at 1 p.m.
– Dance round: Tuesday 5:30 p.m. – 8:30 p.m. EXPERIENCED round dancers start anytime, NEW dancers start June, $5 per class, ages 14+
– Tai Chi class: Tuesday 10 a.m. – 11 a.m.
– Veterans' Social Breakfast: 2nd Thursday of even months from 9:00 a.m. to 11:00 a.m.
_ Programs from Monday to Friday: food assistance, activity centers for the elderly, prescription assistance (SenioRx), medical assistance (SHIP) and rural public transport. Call for details.