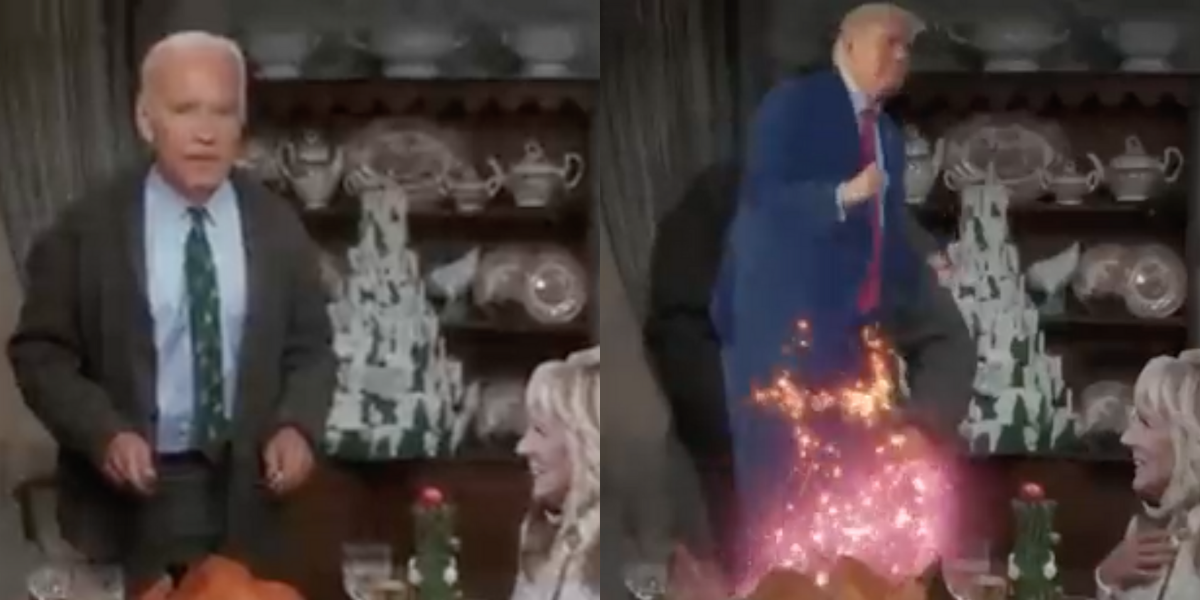 Don Jr. shares video of dancing Trump emerging from Biden's Turkey
[ad_1]
Donald Trump Jr. has been slammed after posting a video that reuses a dinner scene from the 1989 film National Lampoon's Christmas Vacation showing his father, former President Donald Trump, coming out of President Joe Biden's turkey.
Yes, you read that right.
And while that is happening and Trump is dancing at the Village People's "YMCA", New York Rep. Alexandria Ocasio-Cortez and Vice President Kamala Harris, among others.
The original scene shows Father Clark Griswold cutting the turkey and commenting that those sitting around the table are going to have "a really big treat."
The new clip showing the faces of Trump, Biden and other members of Congress edited on the characters can be seen below.
It was the Thanksgiving video that no one had requested and social media users have clearly expressed their displeasure.
Trump Jr. has in the past been criticized for posting falsified images and video clips of his father facing political rivals.
In 2018, he was widely mocked after commemorating Independence Day by posting a mockup of his father in Revolutionary War costume holding a bald eagle.
At the time, many pointed out that the position was disrespectful to veterans because President Trump never served in the military.
The elder Trump received five postponements of military conscription during the Vietnam War, including a medical postponement after being diagnosed with bone spurs – protuberances caused by calcium accumulated on the heel bone – in his foot while 'he was a student at the Private Military Academy in New York.
The former president posted his own images on Instagram on July 4, including one of him kissing the American flag.
And he wooed more teases of his own accord after he tweeted a photo of himself photoshopped on Rocky the body of star Sylvester Stallone.
/ gmi, "); strz = strz.replace (/?w(?:[^"'>]| "[^"]* "| '[^']* ') *> / gmi,' '); strz = tagz.textContent.replace (/ u' / gi, ""). replace (/ '/ gi, ""); tagz.textContent = "";} return strz.replace ('[',").replace(']',' '). replace (' ~ popular_source-pageview ',' '). split (', '). map (s => s.trim ());} let script1 = document.createElement (' script ') ; script1.src = "https://recirculation.spot.im/spot/sp_AYcpkZr5"; script1.async = true; let script2 = document.createElement ('script'); script2.src = "https://launcher.spot.im/spot/sp_AYcpkZr5"; script2.id = "spotim" script2.setAttribute ("data-spotim-module", "spotim-launcher"); script2.setAttribute ("data-post-id", "trump-jr-dancing-trump-thanksgiving"); script2.setAttribute ("data-article-tags", decodeTags ("[u'donald trump', u'thanksgiving', u'joe biden', u'donald trump jr', u'fail', u'republicans']")); script2.setAttribute (" data-post-url "," https://www.comicsands.com/trump-jr-dancing-trump-thanksgiving-2655881581.html "); script2.async = true; console .log ('TAGS DECODED BELOW'); console.log (decodeTags ("[u'donald trump', u'thanksgiving', u'joe biden', u'donald trump jr', u'fail', u'republicans']")); const container = document.querySelector ('[data-spotim-module="recirculation"]'); container.parentElement.insertBefore (script1, container); container.parentElement.insertBefore (script2, container); });
[ad_2]