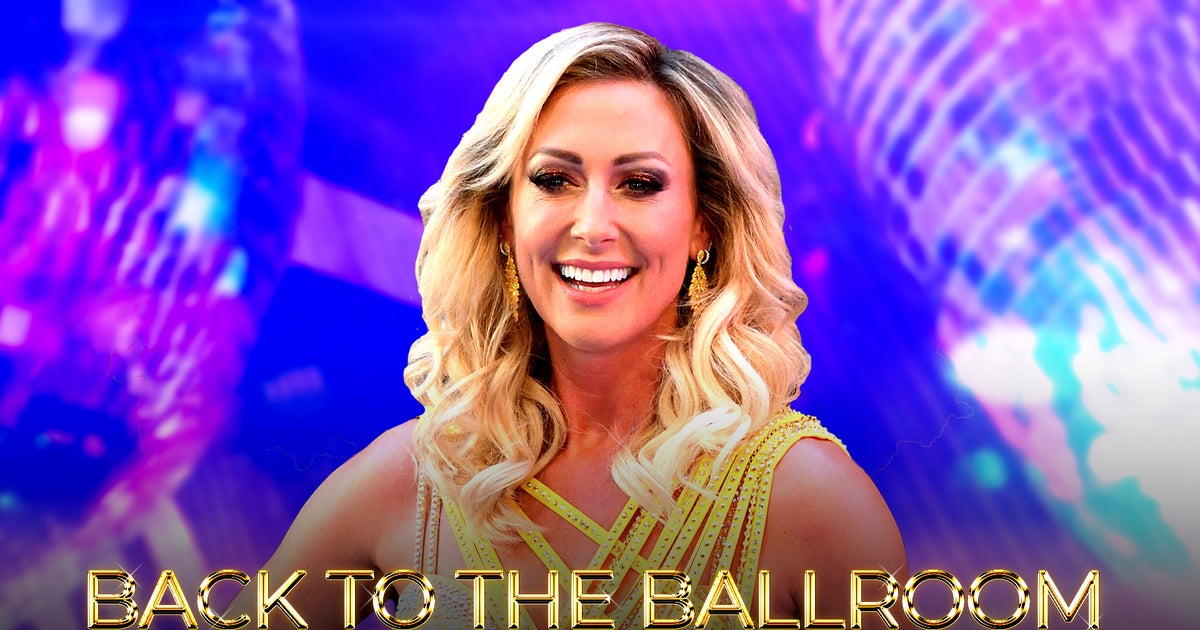 Faye Tozer from Strictly: "I show everyone my beautiful headline after a few champagnes"
[ad_1]
For Faye Tozer, the journey to enter Strictly Come Dancing has been a long one.
The Steps legend knocked on producers' doors for 10 years before finally receiving the call to audition for the show in 2017.
"That's when I literally passed out," Faye told HuffPost UK. "I've wanted to do it forever and I finally had the chance."
After decades of doing the Tragedy routine with Steps, Faye was able to show a whole new side of herself when she slipped on the floor Strictly with her pro partner Giovanni Pernice.
The couple had an electric partnership that took them to the finals, creating one of the show's most iconic routines along the way.
He saw them dance to Peggy Lee's Fever dressed as skeletons during Halloween week, and it was the first jazz performance in Strictly history, following the then controversial introduction of Couple's Choice. It was a risk, Faye said. But one who paid.
"We didn't know if this was going to bombard massively or if people were going to be like 'OK, this is something new and we love it and accept it.' For us, we were taking a massive, massive chance, "she recalls. "Giovanni had never done anything like this … but everything seemed to fall into place.
"It was one of the hardest routines I have done due to the back flexion and the weird hopping motions. I looked like a tarantula – it was very strange!
In the second installment of our Back To The Ballroom interview series, Faye looks back on her Strictly journey, detailing how the show led to Steps' collaboration with Michelle Visage and revealing the best painful foot advice that contestants from this year will be dying to know.
My life has changed since Strictly because …
You become a member of this elite club of people from the Strictly family. The people I meet now, who I work with and who have done Strictly before, know what it was like to feel this trip and to ride this crazy ride. Plus, people love Strictly so much – wherever I walk now, people know me both from Steps and Strictly. 'Faye from Strictly' has become my second name.
It took three months for the producers to answer me after my audition …
You go into a little meeting and you do a little practice run – I did a waltz and samba or cha cha for a few minutes with Aljaz, then Janette came in and said hello. [The producers] had a watch and a conversation and I just had to wait, and wait, and wait to see if they accepted me. My hearing was around May, then it was in August that I got the green light. I thought it was done and gone and it wasn't meant to be.
I think they change it as they go, because they might say "oh no we have an athlete" or somebody else comes into the mix, so I don't think they take any final decisions before announcing.
I thought it was going to be a scary competition but actually there is so much love in the room…
The love between the pros and the pros with the candidates. I had a lot of help from the pros – the Strictly Girls – who told me "if you just do that or just kick your elbow here". They were always ready to lend a hand because they want you to feel good. The camaraderie was such a beautiful, exciting and unexpected thing so you really felt like you were on a team… It's so moving to see the quality and work ethic of everyone there.
Luba gave me the best advice for my sore feet …
I really struggled with my feet and shoes and the bulb on bulb. I was in flip flops all season because my feet were so bad and needed ventilation. I remember phoning Luba and she told me a good tip: dip a pair of socks in vodka, put on your socks, then put your shoes on and the leather of the shoes will stretch and mold to your skin. feet. . It was one of the best things that ever happened to me.
Luba has been a bit of a mentor to me. Even though she was very strict, she was actually a stable little rock for me and was there to root me.
The show gave me a little self-confidence …
When I first walked into the room there were so many great personalities I was like, "wow, I don't know where I stand here". I wasn't the loudest, the funniest, or the best dancer. I had all of these negative thoughts and then I walked into the room and did the first dance and loved it – it was the biggest adrenaline rush of my life. Then I was like, "I have to stay, I have to stay", because it was just amazing and so much fun.
Strictly led to the collaboration of Steps with Michelle Visage…
I reached out to Michelle when she was doing Strictly because Debbie [McGeee, Giovanni's previous partner] held out his hand to me. Then she answered me and we started the Facetiming. So the next series, we watched it on the phone together at the same time. It was so much fun.
Me and Michelle have become great friends thanks to Strictly. We shared the trip so we stayed in touch and Steps asked him to do an Instagram thing with us. Because of that, we asked her if she wanted to do something musically with us, and the management called and the rest was history. Our lives are tied now because of Strictly!
Instead of Tragedy, I now go to some Salsa at a nightclub …
You get the bug and it's wonderful. Once a friend of mine celebrated his birthday in Italy and one of our friends was a ballroom dancer, so I fell in love with a few moves in Sicily which was totally appropriate as it is from where Giovanni is from. Giovanni's line was "hold the frame" when you talk about the classic pose, and I always show everyone my beautiful top line after drinking a few champagnes.
My favorite Strictly couple is…
Aston Merrygold and Janette Manrara. They were absolutely amazing, and then they came out! Then he did the Christmas special during our year and it was so nice to see him dance in the flesh.
My strictly celebrity dream would be …
Someone really funny like Alan Carr. One of the joys of Strictly is that you have people who really don't dance but just have fun on the dance floor and I really appreciate the comedic celebrities for their banter between dances.
My advice for this year's candidates is …
Pick your own pace, eat well, sleep well and enjoy it. Try not to take it too seriously. Sometimes the pressure you put on yourself can get the better of you. Oh, and bananas and coffee, that's what we used to live on.
Steps What The Future Holds Pt. 2 latest album is out now. This interview has been edited for clarity and length.

Photo gallery
"Strictly Come Dancing": all the winners


See the gallery




[ad_2]