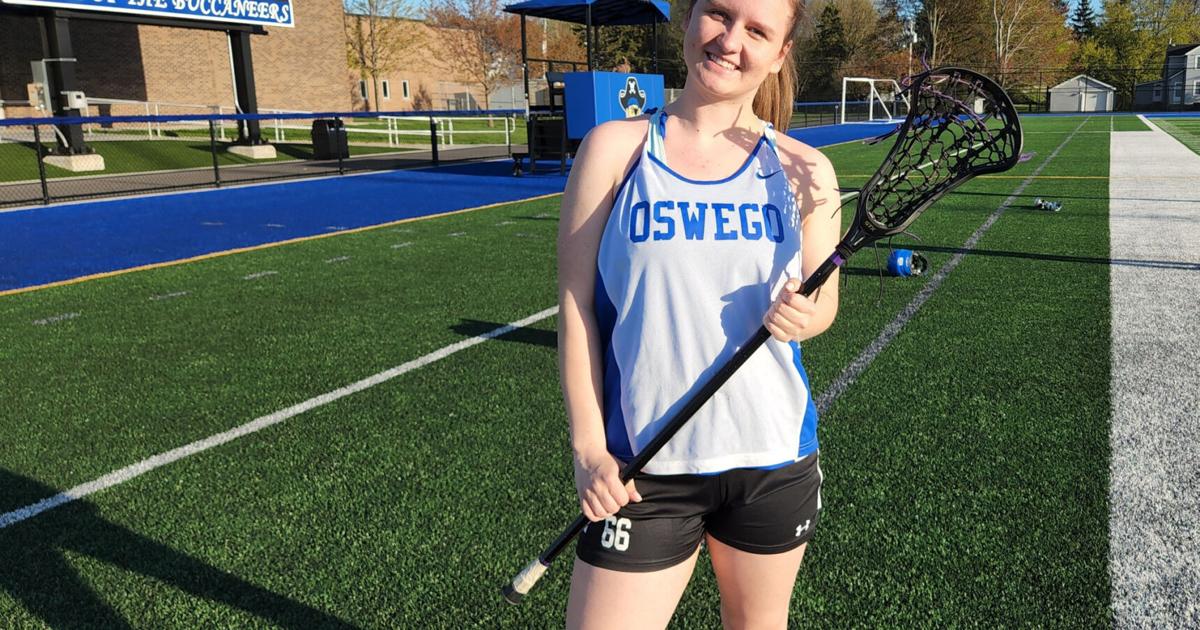 High school sports: From Germany to Oswego, Georgi welcomed addition to Buccaneers women's lacrosse | Oswego County
OSWEGO — Emilia Georgi had never heard of lacrosse before arriving at Oswego High School and now plans to seek out a team when she returns home.
The 18-year-old international and senior student from near Dreisen in Germany started the sport with the help of Oswego varsity head coach Theodore Beers and a trio of senior captains, led by the star of fourth year, Isabella Koproski.
Georgi was a key contributor to the encouraging mentality and team-oriented dynamic that helped the Buccaneers (4-8 overall) bounce back from a winless season last year on the brink of a potential berth in Section 3 playoffs, entering the week needing to win two of their last three games to enter.
"Sport always helps to connect with people, to get to know people, and I like trying new things," Georgi said. "I played ice hockey and most of the girls on the team said I should just give it a try, so I said, 'OK.' I didn't really think about it, I just showed up for practice and started playing lacrosse.
She added, "It was super cool because everyone was so welcoming and nice, and I tried something new, which with the right people is always a lot of fun."
Georgi began her foray into Oswego athletics by joining the hockey team last winter, a sport she was at least familiar with but never played growing up.
In Germany, she was actively involved in "figure roller skating", which she compared to figure skating on roller skates, but she had little experience in team sports.
Georgi played forward during the hockey season and said she joined the team to meet more people and experience new things after thinking she was spending too much free time at her summer home. welcome in the fall.
Georgi quickly endeared himself to his teammates and eventually posted a list of German words to learn on the team fridge in the locker room. Mark Fierro, women's hockey head coach and women's lacrosse assistant coach at Oswego, was impressed with how quickly she progressed in her freshman year.
"It was crazy, actually," Georgi said. "I really, really liked hockey and I also like lacrosse. With both I made a lot of friends and it was a totally different experience than I would have had back home.
Georgi's positive experience on the ice brought her onto the lacrosse field, sharing many of the same teammates. She approached Beers about a week before the season, as she did with Fierro before hockey, stating that she was simply aiming to join the team with few expectations beyond having fun.
Beers was happy to oblige and believes Georgi is the first international student to join the program under his guidance in more than 20 years on the sidelines.
"It's a nice little culture shift that we haven't really had on our program, so it's been fun, and we hope she's had fun too," Beers said. "Obviously she's going home after graduation, so hopefully we'll send her off with lots of great memories."
Georgi was surprised to be slotted into the season opener against Vernon-Verona-Sherrill, according to Beers, and she approached the coach to express her excitement after her first set of matches.
She started the season as a reserve in defence, but has since played in attack and midfield as her skills have developed.
"Going from hockey to lacrosse, she had a lot of wrist work, so now it's just passing and catching for lacrosse," Beers said. "But every week she learned, and we have a really good group that came out and helped her."
The senior captains – Koproski, Kat Wincheck and Azalia Avery – took over the work with Georgi before and after practices, playing wall ball and catching to help the senior learn the necessary skills.
"She went from barely knowing how to hold a stick to actually passing and catching, which might sound easy, but if you think about it realistically, she picked it up so fast," Avery said.
Beers said passing on the rules and intricacies of women's lacrosse has been the most challenging aspect of trying to catch up with the senior freshman year.
"Sometimes it's a bit frustrating," Georgi said. "You see everyone can do something perfectly and for yourself, you can't learn lacrosse in two days, it takes time to learn it, so sometimes it gets frustrating."
She added: "I can go up to anybody on this team and say, 'Can you help me? Can you show me this? And they're always like, 'Yeah sure,' and they'll cheer you on. always and will see when you improve and let you know.They give a lot of advice and that's really good.
Georgi has gained valuable experience off the pitch, describing his favorite moments as bus rides to away games, celebrating lasting wins and setbacks with teammates, and soaking up recent senior night festivities.
Avery and Wincheck recall convincing Georgi to dance in the rain with them for nearly an hour in the Oswego parking lot after returning from an away game earlier this season.
"She really fits in with all of us and she wasn't afraid of anything, she's so bold and out there, and we love her," Wincheck said.
Georgi was one of many additions to the Buccaneers and is one of five seniors from the youth unit appearing on the rise. The top three scorers are all underclass.
Koproski, the longest-serving captain who will play for NCAA Division III at Clarkson University next year, spoke of the more pleasant atmosphere chasing his first playoff spot since 2017 after the 0 campaign. -13 last spring.
"Last year was such a tough year for us, so this season every goal is celebrated, the girls on the sidelines are amazing sports about everything on and off the pitch, everyone is so happy when the goalkeeper makes a save or we score, even if we just intercept a pass," Koproski said. "It was great to see every day.