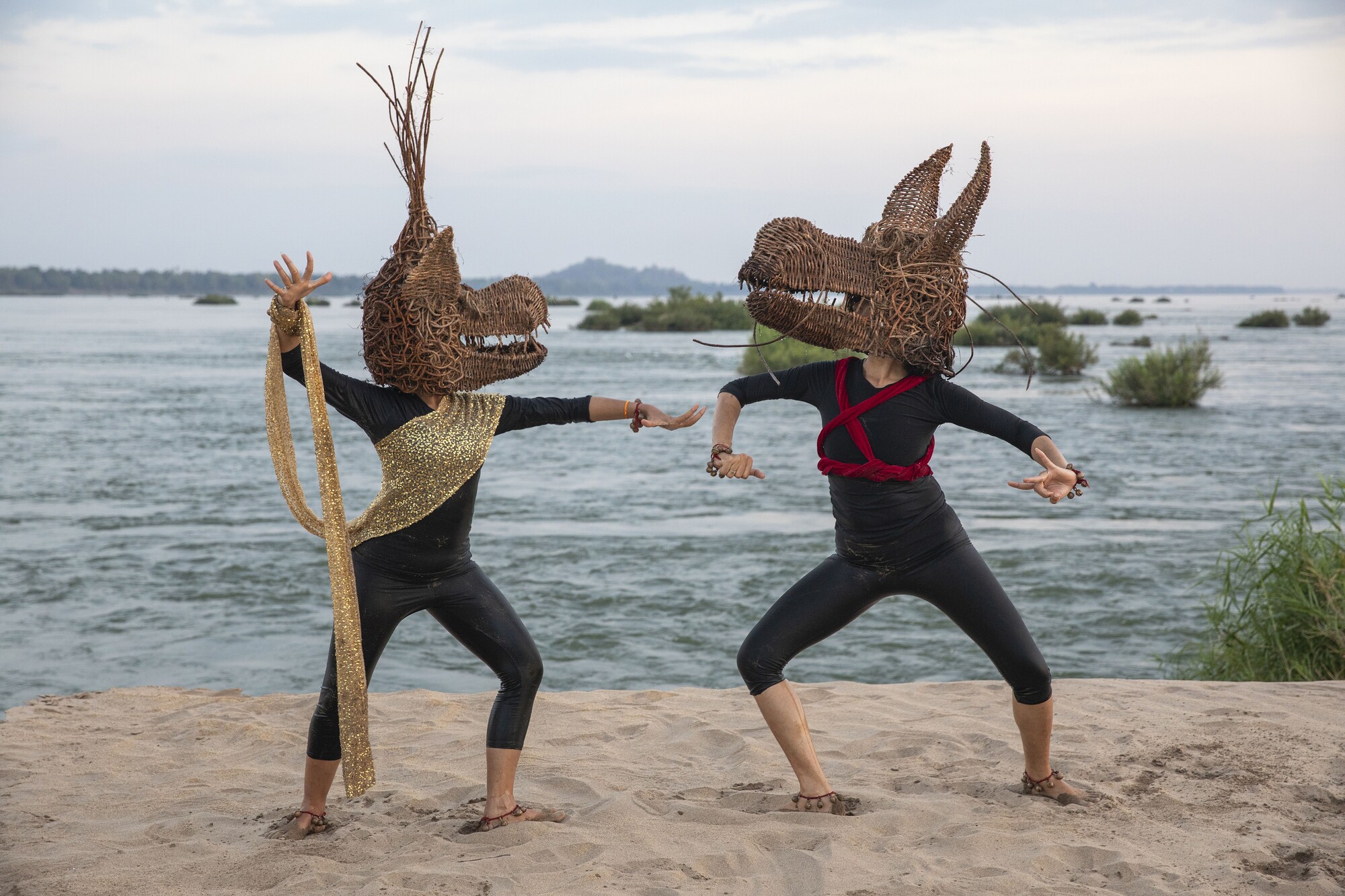 Khvay Samnang: Dancing the Earth – Announcements
Bring the sand back to the river bank, from where it was once extracted; pour liquid rubber on itself; using his own body to draw attention to land grabbing and deforestation; becoming one with the forest, animals and moving spirits and with masks – dancing the earth. Khvay Samnang's art is based on the exploration of political, economic, social and cultural displacement and the discovery of alternative indigenous ways of life. To fight against the destruction of natural environments and the societies and cultures of the communities that live there, he develops his performances and his video and photo works. The questions it raises are universal. Who owns the land? What is happening to our land? Khvay Samnang's works are not simple gestures of nonviolent resistance; they are also an inspiration for another way of thinking, acting and living, a plea for a form of respectful coexistence that will allow us to have a future. In the personal exhibition dance the earth Cambodian artist Khvay Samnang presents works from the years 2010 to 2018.
Program
Long Night of Museums
Saturday May 21, 2022, from 6 p.m. to 1 a.m.
We invite you to ifa Gallery for a preview of the exhibition Khvay Samnang: dancing the earth. The gallery team will guide you through the exhibition, with short tours every hour. The artist Khvay Samnang will be present.
Reading
Thursday August 11, 2022, 7 p.m.
Barbara Stoll reads Kampuchea by Patrick Deville
Patrick Deville's novel Kampuchea takes us on an exploration of the last hundred years of Cambodian history, presented here in a reading by Stuttgart-based actress and director Barbara Stoll. Deville tells a drama between kings and queens, the rural population, the military and the communists.
Work of the month
Selected works from the ifa art collection will be presented in dialogue with artists and people working in the field of culture. The ifa collection includes more than 23,000 works. Its sources are unique, made up of works from ifa exhibitions that have toured the world. These presentations take place at 4:30 p.m. on Wednesday, June 8 and Wednesday, June 13, 2002. Views of our art collection here.
dance performance
July 7, 2022, 7 p.m.
In classical Khmer dance, the poses and positions of the hands and fingers are very important. In his job popil Khvay Samnang presents Cambodian dance with its expressive gestures in a new contemporary form. The dancers wear masks made of braided vines that resemble the heads of dragons. Two dragons meet in an encircling and weaving motion, telling their own love story in this performance.
On June 30, 2022 the dance show popilpresented by the KfW-Stiftung foundation, will be presented at Villa 102 in Frankfurt. These performances are presented in cooperation between the KfW-Stiftung and the ifa Gallery Stuttgart.
About ifa Gallery and ifa
The ifa Gallery Stuttgart presents contemporary art from a global perspective, addressing post-colonial movements and artistic reflections on the themes of migration and cultural transfer. In times of social and economic transformation, conventional attributions have become unreliable, and so our exhibitions are based on co-creation processes with global and local collaboration. Different voices are heard as they combine to form a multi-level shared space in which visitors are included.
As an independent intermediary body, ifa—Institut für Auslandsbeziehungen plays a leading role in international artistic and cultural exchange, and his work helps shape Germany's international cultural relations. ifa is funded by the German Federal Foreign Office, the state of Baden-Württemberg and the state capital, Stuttgart.