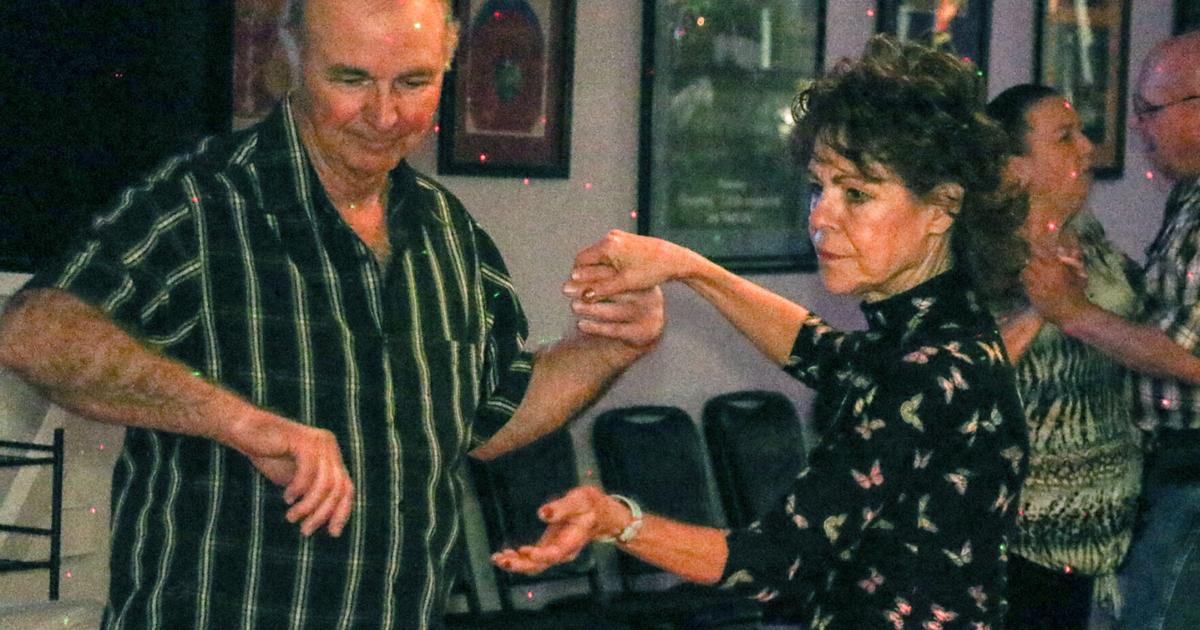 Progrès 2022: the region's dance clubs are on the rise | News
WESTWOOD You might call it fast-paced group therapy.
On Thursday nights, at the Flatwoods Senior Center on Reed Street, people strap on their boots for three hours of line dancing and ballroom dancing steps. On Fridays, the stage moves to the Westwood Dance Club on Iowa Street.
Dr. Dante Oreta, a retired local doctor, and his wife Frances bought the Westwood building three years ago after about 22 years at a Greenup facility. He said 60 to 80 people come to the Friday dances.
"They can't go to bars because they don't like to smoke and drink, so they have to go to a clean place where there's no smoking or drinking," Oreta said. "It's the only place."
"We don't advertise, really. It's word of mouth," Frances said. "Whoever comes here always comes back."
Oreta said the club left Greenup because the rent had become too expensive. He remembers the first time he saw the building on Iowa Street.
"It was nothing," he said. "We really had to dismantle the roof, the ceiling, the walls. We had to build two bathrooms.
"There was no water there, so we had to dig a trench all the way to the back so we could have two bathrooms."
Debbie Henson, director of the Flatwoods Senior Center, said attendance for Thursday dances varies. Her friend, Ava Hignite, said it was often because of the weather.
At 83, Nadine Carver, of Minford, Ohio, is just about the oldest regular at Flatwoods and Westwood dances, and she appreciates not having to travel to Columbus, Ohio, two or three times a week. She is also one of the most accomplished. She is due to compete in a national dance event in May in Florida.
"It's kind of fun because I can still move at that age," Carver said. "I like two-step Texas. I also like the waltz, the polka. I love them all, as long as it's a dance.
"Dancing is just something that will get you through anything, even if you're sad. It's just a good feeling.
Sometimes romance blossoms. Judy Smith, from Grayson, met her husband Oscar at a Friday dance.
"I asked him to dance," she said. "We started dancing and he invited me to dinner, and it kind of blossomed from there."
Line dancing involves a series of repeated steps performed in unison on one or more lines. The participants do not touch each other, but they can either face each other or move in the same direction.
The waverlykarate.com website identified the 1961 "San Francisco Stomp" as one of the first line dances. The songs for five others – Walkin' Wazi, Cowboy Boogie, Electric Slide, LA Hustle and Tush Push – were written in the 70s.
According to grizzlyrose.com, line dancing became popular in the 1970s, coinciding with the disco era. Some of the first stages included the electric slide, Cowboy Cha-Cha and others.
The 1980 film "Urban Cowboy" sparked interest in Texas in two ways. Line dancing was revived in 1992 with the Billy Ray Cyrus hit "Achy Breaky Heart".
Steve Carter of Greenup teaches line dancing. He said you can get an intense workout.
"We teach for free to get (people) on the floor and exercise," Carter said. "I would say I burn 3,000 calories."
Ballroom dancing has been around for centuries.
At blog.dancevision.com, author Alison Borne said the earliest origins date back to 16th-century Europe, when French philosopher Michel de Montaigne wrote about a dance he observed in 1580 in Augsburg, Germany, "where the dancers moved so close that their faces touched.
"The waltz, considered the oldest traditional ballroom dance, originated as a style of dance enjoyed by the lower classes," Borne wrote. "Around 1750, a couple dance called "Walzer" was popularized by the peasants of Bavaria, Tyrol and Styria. Danced in ¾ time, it finally spread from the countryside, to the suburbs, and finally to European cities.
In the middle of the 20th century, there were other influences. Among the fastest steps: the tango from Argentina, the foxtrot from New York, the mambo and rumba from Africa and later from Cuba.
More recently, the television series "Dancing with the Stars" has aroused interest.
Frances Oreta said it was difficult to attract young people. However, a few teenagers attended a dance on Feb. 18 in Westwood. James Roush, 14, of Gallipolis, Ohio, comes most weekends with his stepfather, Scott Fannin. Unlike many of his friends, he prefers line dancing.
"It's just something nice to do in the evening because most of the kids on Friday night would go home and sit and play video games all evening," Roush said. "That keeps you busy; gives you something new to do.
Abigail Blair, 15, and her friend Makylah Tussey, 14, first came to Westwood on February 18. Blair thought line dancing was "difficult".
"There are a lot of steps in the dance," Blair said, "but it was fun."
Tussey, meanwhile, was a bit more experienced.
"I'm taking a dance class at Boyd County (High School)," she said. "I line dance all the time. I will be back.
Frances Oreta said there are plans for ballroom dancing lessons. "We'll try to start having a ballroom dance once a month and then if it goes well we'll pick up more," she said.
There was another question to answer: which Oreta is the best dancer?
"I'm the best dancer," Frances said.
Oreta replied, "Yes, I agree."
There are two weekly dances: Thursdays 6:30-9:30 p.m. at Flatwoods Senior Center, 2513 Reed Street and Fridays 6-10 p.m. at Westwood Dance Club, 216 Iowa Street.