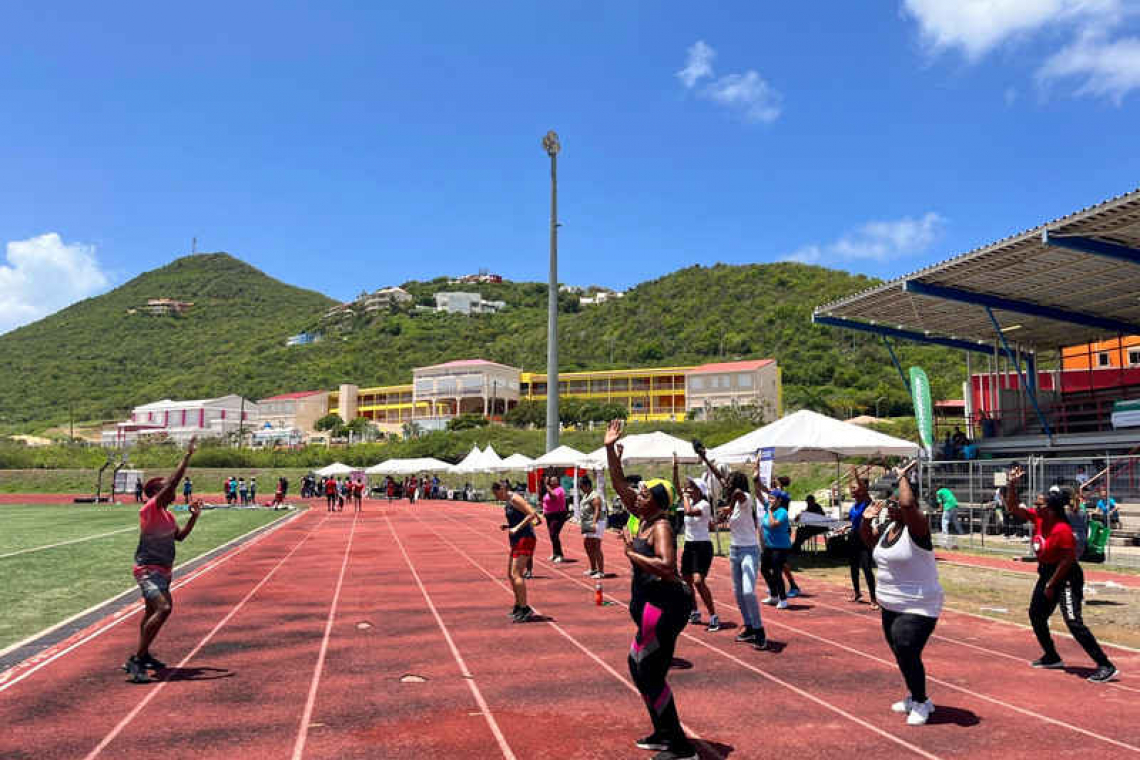 The Daily Herald – Health, Sport, and Culture Expo had something for everyone!
Over 1,000 people attended the first-ever joint health, sport and culture exhibition at the Raoul Illidge Sports Complex on Saturday 27 August. From 7:00 a.m. to 3:30 p.m., people flocked to the sports complex to learn about the many sports, culture and health actors in Saint-Martin and to participate in live demonstrations, free tests and tastings. of food.
The Ministry of Education, Culture, Youth and Sports (ECYS), through its Department of Sports and Culture, and NAGICO Insurance joined forces to organize the well-attended exhibition during which all the facets of health, sport and culture have come together.
Even before entering the sports complex, it was clear how successful the event was by the number of vehicles parked on the sidewalk, the side of the road, and even blocking other cars. With over 1,000 attendees, the Raoul Illidge Sports Complex was full of enthusiastic people ready to partake in sporting, healthy and cultural entertainment.
The event was for all ages: some people brought their young children, others came alone to sign up for sports and get tested, and the Senior Citizen Recreational Foundation brought seniors to enjoy the day.
The event was completely free for both the organizations present and the participants. This meant that participating organizations, most of which are nonprofits, could provide information, offer demonstrations, and expand their customer base/membership without having to pay vendor fees. Attendees, meanwhile, were able to ask questions, register with various sports organizations, take part in demonstrations and health checkups, and receive beverages, food samples, and health products, all fully free.
More than 54 organizations and companies demonstrated the diversity and variety of all that Saint-Martin has to offer in terms of health, sports and culture.
The field of health covered many areas. Various organizations offered free on-site testing: the AIDS Foundation conducted HIV testing, SLS conducted sickle cell testing, the Diabetes Foundation provided diabetes testing, the Heart Disease Foundation heart performed blood pressure tests and the Mental Health Foundation distributed self-assessment tests. for anxiety and depression.
The Red Cross and WIEMS were on hand to educate the public on first aid, while the CPS answered questions, raised awareness of mosquito diseases and handed out free toothpaste. Dietitians from Greenmeds and Qualichi Healthcare Clinic spoke to attendees about the importance of healthy eating. The Positive Foundation raises awareness of breast and prostate cancer and invites people to free screenings.
But more alternative healthcare options were also represented. Wonderhands brought acupuncture needles and information on different traditional Chinese medicine practices, while Earth and Sky Hypnotherapy talked about using hypnotherapy to reprogram bad habits and develop good ones. Finally, Mindful Elevation Caribbean held free meditation and breathing sessions throughout the day to combat stress and anger.
Attendees didn't go hungry or thirsty despite the August heat thanks to the selection of free food and drink samples. Fitfoods gave away healthy snacks such as pumpkin bread, banana muffins, brownies, juices, falafels and soups. San's Johnny Cakes offered samples of their authentic johnny cakes and taught attendees how to bake old-fashioned johnny cakes using a charcoal pot. Jenny's Vegan Kitchen handed out delicious corn and zucchini muffins, granola and energy bites, while Real Food Strictly Vegan handed out mango salad, vegan burger, vegan ground meat, vegetables, fries house and soup.
Walking around the sports complex, it became increasingly clear what Saint-Martin has to offer in terms of sports. The Carib swimming team showed up with a children's pool and gave information about their swimming practices. Island Rebel Yoga held a yoga class at 7:00 a.m. and people practiced headstands during a large capoeira demonstration in the middle of the field. Bodybuilders walked around explaining correct form and answering questions while interested people tried out some of their gym equipment.
SIMVA brought a volleyball net, Little League brought baseball bats, Share The Road Cycling brought bikes, and Skate Sessions brought skateboards, helmets, and ramps for everyone to try out. . Most surprisingly, Seaside Nature Park transported three horses to Raoul Illidge for rides and petting.
The Yacht Club provided sailing information for children and adults. Meanwhile, Renzo Gracie presented Jiu Jitsu and self-defense and SXM Boxing demonstrations packed a punch. The Performance Sports Academy and the Soualiga Youth Basketball Association spoke about their shared mission to bring back youth basketball and offered demonstrations and registrations.
The Road Runners and Dynamics Sporting Club were on hand to encourage people to join in their runs and BodyTec explained the concept of electrical muscle stimulation to those interested in a quick but effective workout.
Finally, culture showcased some of St. Maarten's many artists and cultural foundations. Poets Marianne Tefft and Rochelle Ward promoted poetry in general and featured their own publications, while painter Hanisha Alwani exhibited her art. Write the Vision provided information on their film productions and Choreographing History spoke about their work transforming historical narratives into dances.
In general, the dance was well represented. NIA, Indisu, Rudolph Davis Performing Arts School and Fraser Ballroom Dance all promoted dance as an art form and showed their passion in various dance displays.
For music, the Expo featured the Youth Orchestra, Le Piano Noir, Hart Music School, and St. Martin's 88 after-school music clubs. The National Heritage Foundation and Museum and the Sint Maarten Archaeological Center (SIMARC) have joined forces to raise awareness of local history, archeology and heritage.