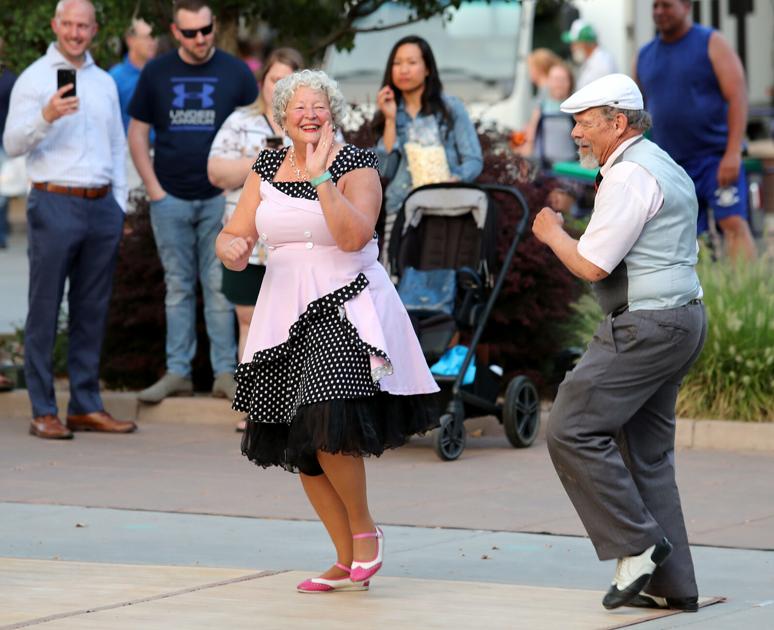 "The dancers" bring movement, joy to festivals in the region, to dance floors | Western Colorado
Even in the French Quarter of New Orleans on a family vacation, Bruce and Tanya Marvin are recognized.
"Hey! You are 'The Dancers!' Exclaimed another couple, later discovered to be from Fruita.
Why, yes, they are "The Dancers". And whether it's a line dancing outside of Café du Monde in New Orleans or a swing dance with a local band at Market on Main in downtown Grand Junction, the Marvins have the movements.
She twirls around in a swirl of tulle, and he jumps, still wearing his signature newsboy hat.
He's 71 and she's 67, and over the past 19 years the Marvins have gotten nervous to Latin dance rhythms at festivals, events, and dance floors in Grand Valley. Wherever there is a band playing music that they like, they are there to dance. Even though it's 2 a.m.
With all the enthusiasm and dance moves, you would think the Marvins have been dancing their entire lives.
They grew up in conservative homes where dancing, in whatever form, received a stern sidelight.
Cedaredge was Tanya's hometown, and Bruce's family moved there when her father became the pastor of the Baptist Church.
With a four-year age difference between them, she didn't catch his eye until he was in college.
Tanya had reunion queen status, while Bruce was inclined to look more at the toes of her shoes than anything else. She was so popular that her father had to put a number machine at the end of the aisle, Bruce unmoved.
Eventually, they started dating, writing letters after Bruce graduated as an engineer and Tanya was in nursing school.
When they tied the knot 48 years ago, Bruce's friends teased him that he married well, way above his level, he said.
There was no dancing at their wedding or during their years of raising two daughters and a son. And then after the kids left, as empty nests, Bruce and Tanya had the conversation about what they had in common besides their kids.
Eating and believing were the only two things they could find, and there was too much food, Tanya said.
"I felt like life was a job. I needed something fun, "she said. "I told Bruce I was going to start dancing."
"I was like, uhhhhh…" Bruce said.
The idea was way out of her comfort zone, but Tanya had made up her mind. So they looked for dance teachers, some of whom actually asked the Marvins to quit their classes – "They're purists," Tanya said – and they bought instructional videos and practiced at home.
"It just takes us hundreds of reps to get something," Tanya said.
Considering the slow, methodical way he's learning, "it's amazing that she stuck with me on this," Bruce said.
They cut a rug in their living room for a solid year before daring to dance in public.
It was a band playing jazz swing in the botanical gardens of western Colorado that ultimately caused the Marvins to give up their chairs. After that, "it was like we were addicted," Tanya said. "We can't just sit there."
One dance led to another, one style led to more and eventually they had to get hold of portable dance floors for themselves and anyone who decided to dance with them.
Dancing is training and entertainment all in one for the Marvins. "It has become a priority," Tanya said.
They now go out dancing three or four nights a week. The Moose Lodge on Friday evenings, the Palisade Livery on Tuesday and all the festivals, concerts and farmers' markets with music they enjoy. They enjoy attending Viva Las Vegas, a Rockabilly event in Las Vegas, and going to other musical events where they can dance.
They always show up dressed as new. Tanya loves the Rockabilly look and her favorite store for dance dresses is Road Kill in New Orleans. "As a rule of thumb, you can never have too many shoes and too many dresses," she said with a smile and a mischievous glint in her eyes.
Bruce leans more into the swing style of the 30s and 40s, and he loves the Aris Allen hard leather soled shoes. "It's called speed," said Bruce, who has had a hip and knee replacement and started dancing again within two weeks of each operation.
"They are ready for anything," said Marvins eldest daughter Hadassa Berger. "Dad is an introvert. Would you know? No you wouldn't.
Tennis is the family sport and there are other activities they have done over the years, but right now it's all about dancing, she said.
"They really love each other," Berger said.
"I have a great partner," Bruce said. "It's a little surprising to me how well this was done for our wedding."
In fact, a question that is frequently asked of them is what is the secret to a good marriage.
Most people are looking for an answer like "don't go to bed like crazy," Bruce said.
But life is hard, marriage is hard. "There are a lot of things we wish we had done differently," he said.
The long answer to the marriage question has more to do with total commitment and faith than anything else, the Marvins said.
Marriage is a "God-given institution, blessed God, so there are blessings to stay there through anything," Bruce said.
If you ask, Bruce and Tanya have a lot more to say on the subject. And they love to meet people and find friends who love to dance as much as they do. When other couples join them on the dance floor, "that's our day," Bruce said.
However, they are always surprised when recognized or called The Dancers. "I really didn't think people paid that much attention," Tanya said. "We didn't do that to put on a show.
But when contagious live music is played, and even though it's in front of the Café du Monde and even though their three children and their spouses, 11 grandchildren and anyone else in the area are watching, Bruce and Tanya must dance.
"I don't think we embarrassed them," Tanya said. "We are not pros. It's just fun.