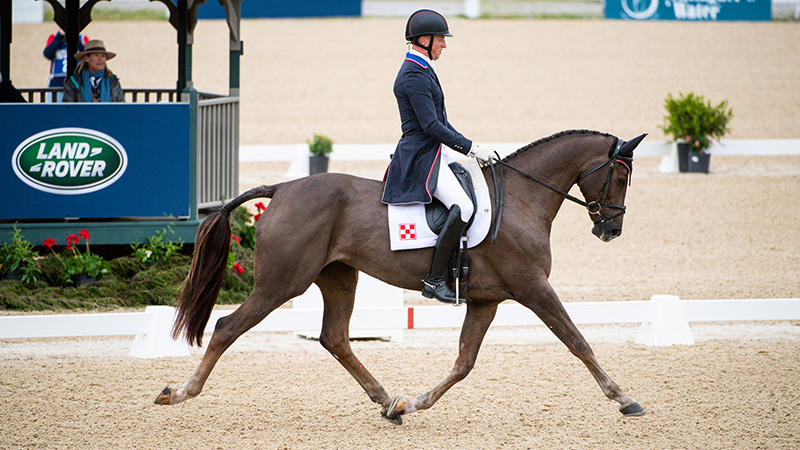 Lexington, Kentucky.—April 29
After a strong spring season last year, Starr Witness was noticeably absent from the all around start lists in the fall. Between preparing for the Tokyo Olympics with his veteran Vandiver, a full competition schedule with his jumpers, and not aiming the mare towards a five-star rating, rider Doug Payne decided to save his wear from eventing for the rest of the year.
But the 11-year-old Dutch Warmblood mare (Chello III—Carmen, Veneur), whom Payne owns with Laurie McRee and Catherine Winter, wasn't just hanging out in the field. Instead, Payne used the time to focus on fundamentals and teach "Ginja" some new dance moves, like piaffe, passage, pirouettes and tempo changes.
At the Lexington CCI4*-S at the three-day Land Rover Kentucky event, the extra time in the sandbox paid off on Friday when she scored a personal-best 23.2 at the level.
"We just took that time to try to make it better on the flat: stronger, sharper, more complex," Payne said. "She's a horse if you don't challenge her, she'll look elsewhere for something to scare or jump or do whatever so the more you throw at her the better off she is."
Payne has her silver medal from the American Dressage Federation and has always wanted to go for gold. He thinks Ginja will be the one to help him achieve this.
"When you have the horse in the barn, you might as well make the most of it," he said. "To compete in all disciplines has always been my ultimate goal, to be able to show up in any pure sport and be competitive. I think she really tried to do that, and she's only 11, so as much get there.
Canadian Colleen Loach slipped into second place with Vermont with a score of 24.5. Yesterday's leader, Liz Halliday-Sharp and Cooley Quicksilver retained third place (25.7).
"I know my horse can [produce a top score], and I kind of pressured myself to get it out of him, and it went well," Loach said. "I knew it was going to be tough to beat Doug, but I hoped I would."
Four-star cross-country skiing begins at 9 a.m. Saturday.
Looking for more information? Find out what you need to know here.
Results I Walking route I Direct I Cover of COTH I Program I Travel time
The Horse Chronicle will be on hand all week for Land Rover Kentucky's three-day event bringing you reports from every round of competition, great photos and stories from the competitors. Follow all our coverage hereand be sure to read our May 23 issue of Kentucky results for more in-depth coverage and analysis of the event.