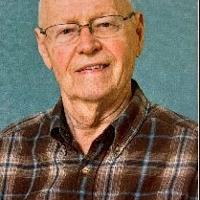 William R. Miller | Obituary
William Raymond Miller, 90, died Friday, June 17, 2022 at Willow Valley Lakes Apartments. Born in Natrona Heights, Pennsylvania, he was the son of Thelma Harned and Raymond Miller. He graduated from Freeport High School, Freeport, PA, then Pennsylvania State University, State College, PA, earning a bachelor's degree in agricultural engineering. Penn State changed his life and he was forever proud of Penn State.
He spent 33 years working at RCA/General Electric/Thomson-CSF and retired as Director of Equipment Design. He was most proud of introducing robots to color TV tube manufacturing and he designed and installed equipment in manufacturing plants in over 10 countries. Early in his career, Bill worked for New Holland Machine testing farm equipment in Arizona and California before being drafted; he served two years in the Army assigned to White Sands Proving Grounds, NM testing Nike and Corporal missiles. After his military service, he worked at Lockheed Aircraft in Burbank, CA and Fairchild Aircraft in Hagerstown, MD before joining RCA in Lancaster, PA.
Along the way, he met Miriam "Mim" Greenawalt at an Arthur Murray dance studio; they were married for 57 years before his death in 2015. He remained an avid ballroom dancer throughout his life, even at age 90 he rarely turned down the opportunity to dance the rumba.
Bill could build or fix anything with wires. He was also an experienced gardener, dog lover and nature enthusiast. His efforts to support bat conservation earned him the title "Bat Man of Willow Valley". He was an active member of the Unitarian Universalist Church of Lancaster. His friends knew him as a kind and gentle gentleman who liked to share a toast with his dry signature, Rob Roy.
He is survived by two daughters: Tamalyn Ann Miller of Beacon, NY and Therese Leighann Miller of Washington Grove, MD.
In keeping with Bill's wishes, no public memorial service will be held.
In lieu of flowers, memorial contributions may be made in her memory to: Bat Conservation International, PO Box 140434, Austin, TX 78714-0434 or batcon.org.
Please visit Bill's memorial page at:
www.TheGroffs.com